Medical Home and Care Coordination Initiative
A medical home is not a building or a place, but rather a patient-centered approach to providing comprehensive, coordinated and high quality primary care. It involves care that is organized across all elements of the broader health care system, and includes active collaboration between primary care providers, behavioral health providers, hospitals, clinical specialists, families, and community programs and supports.
Building medical home capacity not only helps providers address patients' medical needs – it also helps them address patient challenges related to social determinants of health (i.e. access to housing, food, education, transportation, employment and more) through expanded community referral networks. Furthermore, while medical home and coordinated care is beneficial for all patients, it particularly important for children and youth with special health care needs. They are considered a high-priority, high-need population.
Medical homes should embody the six elements seen in the diagram below (from the National Resource Center for Patient/Family-Centered Medical Home).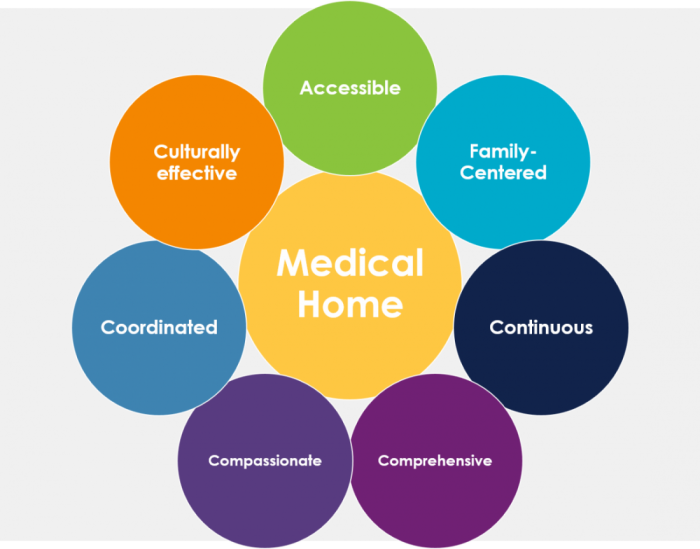 We Can Help Providers Implement a Medical Home Approach
The Bureau of Family Health works to build the capacity of pediatric healthcare and social service providers, health plans, and other health professionals across Louisiana to implement a medical home approach in their clinics and organizations. In particular, we provide resources and support to providers around the following topics, which are key functional components of medical homes:
Identification of High-Need Populations: We encourage providers to use the Child and Adolescent Health Measurement Initiative's Children with Special Health Care Needs (CSHCN) Screener to identify high-need children and get them the services they need as soon as possible. The screener is a five item, parent survey-based tool that responds to the need for an efficient and flexible standardized method for identifying CSHCN.
Developmental Screening: We promote early identification of and intervention for developmental delays through our Developmental Screening Initiative.
Care Coordination: We provide resources and technical assistance to help providers coordinate and collaborate with all entities that are providing care for children and youth with special health care needs. As part of this, we help providers and partners implement best practices outlined in the National Standards for Systems of Care for Children and Youth with Special Health Care Needs (CYSHCN).
Youth Health Transition Services: As part of our technical assistance around care coordination, we help clinics create policies to guide services that help children successfully transition into adulthood, with a special focus on helping youth with special health care needs plan for adult care. 
The Bureau of Family Health's trainings, tools, and resources can help providers ensure that their services are reflective of the six elements of medical home listed in the diagram above.
Trainings, Tools and Resources
Technical Assistance
Trainings:
Bi-annual Resource Information Workshop in-person training conducted across the state. Find out when and where the next Resource Information Workshop will be on the Louisiana Department of Health website.
Virtual trainings offered through the LSU Human Development Center. Watch the webinars.
Resources:
Children's Special Health Services Regional Resource Guides: Printable guides listing key pediatric/adolescent services and programs for each region of the state. The guides include basic service information, eligibility criteria, and contact information. Download the guides.
Developmental Screening Regional Resource Guides: Printable guides for providers and professionals to use when a child or family needs a referral to additional services following a positive developmental, social, or behavioral screen. Download the guides.
Helpful Links & Resources